Ocean & Outback specialise in home relocations, house re-stumping and house lifting or lowering also. Our experienced team can help you through each stage of the process ensuring a quality outcome. Following is a little information on what is involved in each case. Please contact us if you would like to know more.
Ocean and Outback can relocate and stump your existing home with a minimum of fuss. If however, you have found and purchased a home elsewhere, then we can move and stump that for you also. Or, if you are in the market for a relocation home, then we have houses for sale which we can offer as a package, including the delivery and stumping.
We also appreciate that house relocation is an emotional time for our customers. Exciting for some, nerve wracking for others. Our experienced team will be there at each step of the process to help you and your home to its new destination.
First of all, we establish whether the house can be relocated from where it is now, to where it needs to go. Graham will measure the exit and entry points, and access the route to be taken.
Then, Building Approvals must be obtained from council, which will include the preparation of engineers plans and plumbing approvals. If you purchase one of our homes the plans and engineering are provided. Otherwise, you will need to obtain council approvals. Of course Rod, our fantastic draftsman, can prepare your council application for a small fee.
Once we have Building Approval we can apply for the Road Permits and Police Escorts – all paid for by us. And then away we go.
Depending on the size of the house that we are moving, and the distance it has to travel, the move and stumping is usually completed within a week.
On completion, we ensure that we leave your new home site tidy and ready for the next phase of becoming your new home. Perhaps plumbing, electrical or any other renovations you have planned.
Naturally, Graham and Mel are available to discuss the move and advise you on each and every stage of the journey.

Raising your home can be a really cost-effective way of providing additional room for growing families. In other words creating more space. Often, lifting your home can capture an improved view, capture a better aspect or create impoved air flow.
Ocean and Outback have raised (and lowered) many houses over many years. This is why our fast-efficient team can complete the whole process in just a week. And as long as things are secured inside, you don't even need to empty your house of its furniture.
First and foremost, you will need to decide exactly what it is you are trying to achieve. Do you require the help of an architect? How will raising your home effect your electrical and plumbing, and so on.
The process is similar to relocating homes. Engineers plans are required and may need to be submitted to council for approval – depending on where you live.
Once raised, we can re-stump your house using galvanised steel posts, concrete, or treated hardwood. Obviously, we can replace bearers if required, or add steel work if you are wanting to open up areas, to create larger spaces.
In most cases, the raising and re-stumping process can be completed in just a week. Unfortunately you are not permitted to reside in the house while this occurs, but your furniture can stay within the house.
Once complete, you are ready for the electrician, plumber and perhaps builder/carpenters to go to work.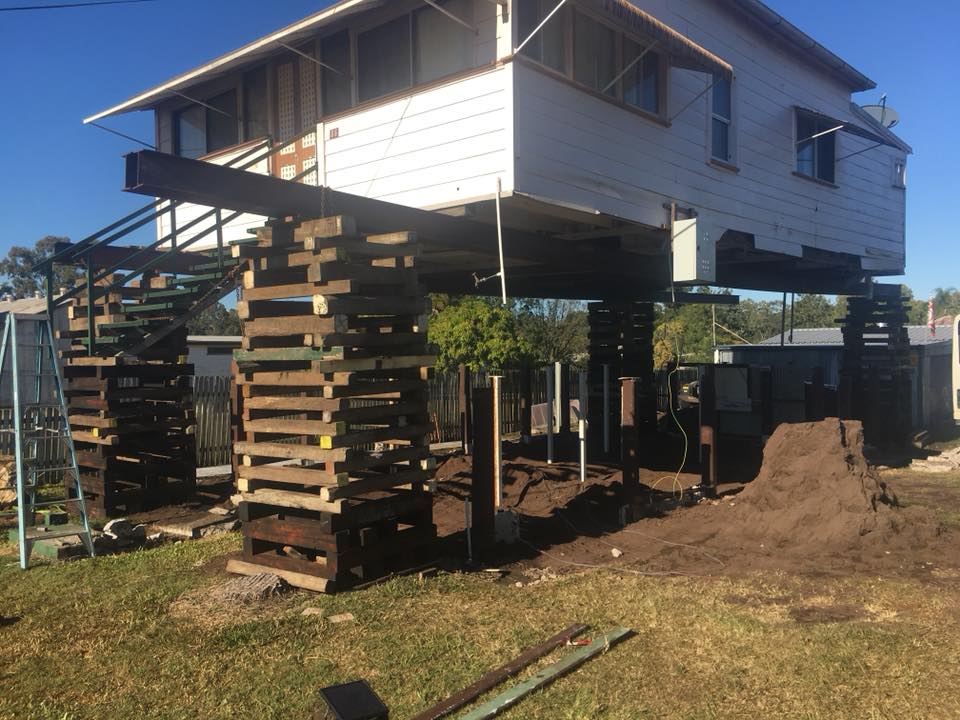 Over time, the old timber posts of many homes will deteriorate, either rotting or settling into the ground and moving. Sadly, this can affect your doors and windows ability to open and close properly. It can also create cracks in walls and ceilings, as well as lead to squeaky, spongy floorboards.
Ocean and Outback can replace your house stumps in a workmanlike and professional manner using galvanised steel, concrete or treated hardwood.
Re-stumping your house ensures a longer life for your home and therefore, should increase its value.
Much depends on how many stumps we are to replace.
The good news is that this is the most straight forward of the services that we offer. We simply lift the house, replace all the defective stumps, and lower the house again. Fortunately, you do not need to move out of your house while the re-stumping is being undertaken. And in most cases, the job will be completed in a week.
We also provide truck and trailer and driver services to other house removal companies or prime mover drivers to tow other house mover trailers. With years of experience driving oversize trucks,  Graham will also contract drive for any house move requiring a competent driver.
He has done so for Busby House Removals in Rockhampton, Heritage House Recyclers in Maryborough, David Wright and Mackay and Sons in Brisbane, Normy's House Removals in Chevallum, DJ & MA Hose in Maryborough, Bundaberg House Relocators and Burnett House Removals in Nanango.
Whether it's your dream catamaran or a sea-going ferry, Ocean and Outback also shifts large vessels.
Special insurance is required to moved boats (much like homes) and we provide the correct boat carrier insurance so you can be assured that every thing is covered for the travel.